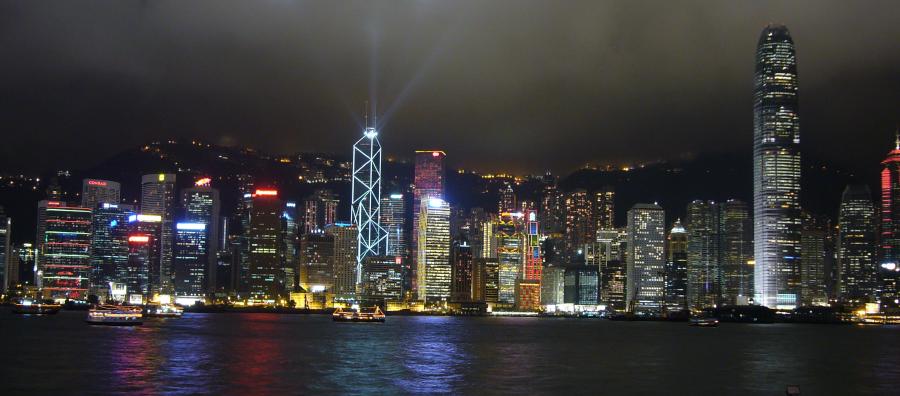 Urban. Sleek. Metropolitan. These are the words that often come to mind whenever we think of Hong Kong. But that is only one of this city's many faces. Hong Kong is also home to picturesque landscapes, beautiful beaches, and unbridled nature to those willing to seek them out.
Admittedly, despite my years here, this was a side of Hong Kong that I've only recently been acquainted with. It was introduced to me by my fellow Shapers from the Global Shapers Community Hong Kong hub . As means of escape from the strict confines of the city, we decided that a group hike was the perfect way to stretch our legs, get some fresh air, and to commune with nature and each other. Thankfully a few of the Shapers were already experienced hikers, and were very familiar with the hiking paths. They chose a relatively easy trail for us to take for this particular hike (in consideration of less experienced outdoors-people like me).
Our chosen path started in the Sai Wan Pavilion in Sai Kung, and had us follow the Maclehose Trail to the east. During the hike we managed to see the eastern rivers, hills, and islands of Hong Kong. It was a great experience to be able to see the more natural part of this city. But to a certain extent, it was also completely unbelievable. And more often than not, I caught myself being completely flabbergasted at everything I saw. It was the shear beauty of it, and the idea that all of this was just right next door. Along the trail, we had come across a running freshwater stream, and I lost myself just looking at it. Admiring the clarity of the water, the smooth rocks beneath, and the schools of tiny fish that swam within.
I am unashamed to say that the reason I don't have many pictures to share, is because I quite literally forgot to take any because I was admiring everything so much.
Our hiking trail ended with us arriving at Ham Tin Beach. All told, the hike was about 5 km long and took us 2 hours to complete. Our efforts were rewarded with a hearty lunch, and a wonderful afternoon laying in the pristine white sands of the beach, as we were tucked away in a little paradise of our own.
It's sights like these that make you forget where you are. As our day came to an end, we opted to take the speed boat back to Sai Kung. And suffice it to say that the boat was another experience in of itself (who needs Ocean Park when boat trips like those exist).
After the hike, I was actually surprised to learn that contrary to what you may think, nature comprises the vast vast majority of Hong Kong. The government reports that only 25% of Hong Kong's land is developed. With an additional 40% of Hong Kong's total land being some form of country park or natural reserve.
And that because of this, Hong Kong's position is very unique. Despite being a large metropolitan city, there is easy access to hiking trails. And I've only realized this recently, but this is a luxury that not many other cities can make a claim to. The ability to get on a MTR/bus/taxi (or even walk) and be at a hiking trail within 30-minutes to an hour, do a hike, and then be back by mid-afternoon, that is not something you can do in most other places. And it is because of this easy access to hiking trails that an interesting "hiking culture" has developed within Hong Kong. To the point that in a city of 7.5 million there were over 13.3 million hikes done in a year .
This entire experience served to show me that while you can live somewhere for close to 9 years, there will always still be pleasant surprises to be found. Such is the spice of life. Hong Kong may be a prime example of an urban jungle, but it is certainly also a jungle in the more literal sense of the word. And that regardless of where you find its beauty, either in the city center or in its natural landscapes, Hong Kong is certainly picture perfect.
---
This is part of my Random Writing Rodeo challenge. The topic was postcards.